S&P E-Mini Trading Course Videos
Topics include:
Free internet resources to help you.
Our recommended broker and account opening requirements.

– Installing your Account Connection.

The Ninja Trader 7 charting program/trading platform.

– Downloading the program.
– Installing the chart template.
– Setting up the workspace.
– User Guide, Video Library and online Training & Education.
– Types of live-trading licenses and payment plans.

Recap of initial expenditures needed for course, account and platform.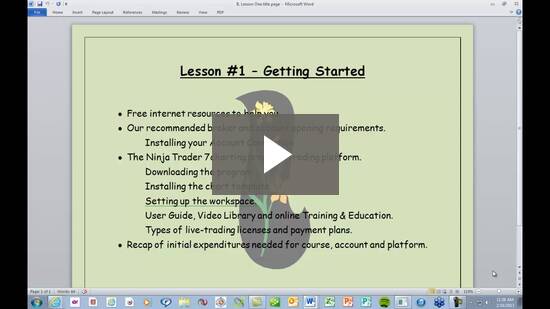 Topics include:
Defining essential terms.
Some COSMIC TRUTHS OF TRADING.
Indicators as reference points and filters.
Candlesticks vs. Price Bars.
The basic trio and the "trend-defining" moving averages.
The cross-over, king of all technical signals.
Other Panel 1 indicators: Parabolic SAR, Donchian Channel and Zig Zag.
The psychology behind red, white & blue color coding.
The rationale for Fibonacci parameters.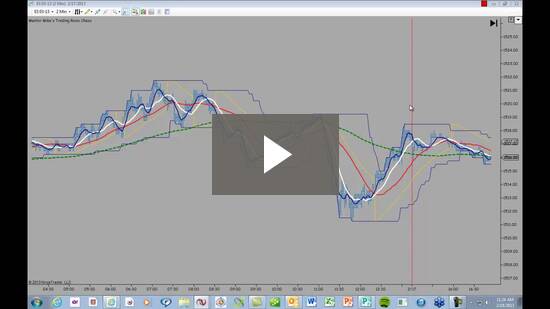 Topics include:
The Momentum Oscillators – open and closed scales.
MACD – components, characteristics and color-coding.
Divergence, the true leading signal.
Stochastics – components, characteristics and color-coding.
Commodity Channel Index – CCI, elements of both scale types.
Support & Resistance.
Overbought & Oversold.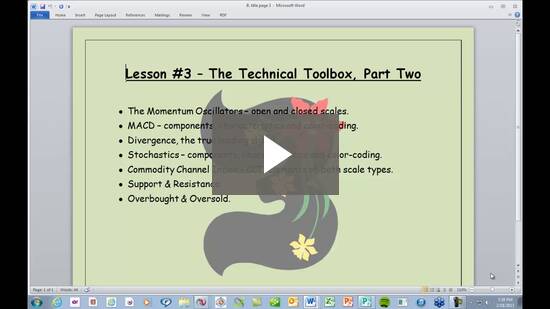 Topics include:
Multiple time frames – the "tide, wave & ripple," and "calendar" ratios.
Elliott Wave "Lite."

– Impulse and Corrective Waves
– Fractal Geometry
– Using the Regression Channel and Parabolic SAR to spot EW patterns.

Integrating the signals on all three chart panels.
1-2-3 tops and bottoms.
Fortune favors the brave.
The unavoidable danger of prediction.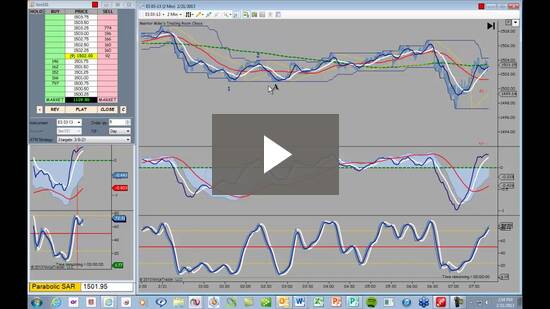 Emphasis on Technical Analysis:
Using Ninja's Market Replay function.
Students will follow a replay of a typical day in the S&P Emini that illustrates a variety of common technical signals for trade entry.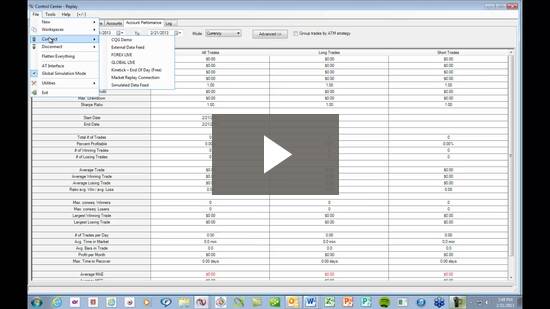 Cutting Losses Short:
Topics include:
The Guiding Principles of Money Management.
Necessary elements of a good Money Management plan.
"External Metrics."
Stops: defined, types & roles in trading.
Damage Control mode.
"Emotional Reaction" versus "Logical Response."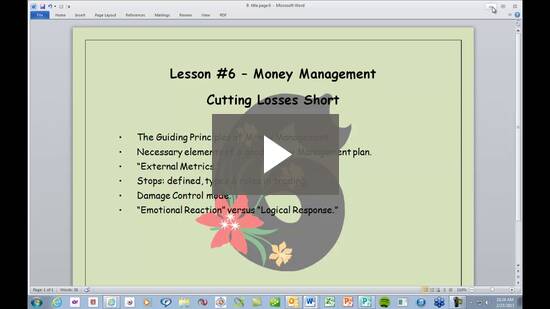 Letting Profits Run:
Topics include:
The hardest part of trading.
Every trade's four potential outcomes.
Scalping & Swing Trading.
The Peeling Off Strategy.
Adding contracts and finding your comfort zone.
Scalping addiction.
Using the Ninja Trader's Automated Trade Management.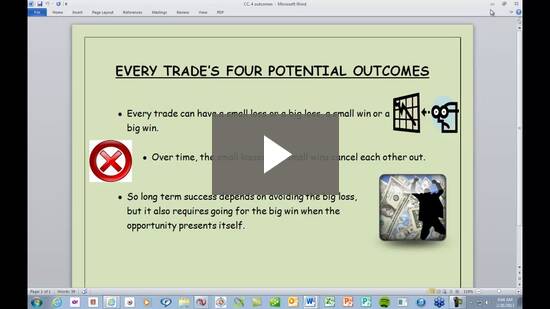 Integrating TA and MM:
Students will follow market replays that illustrate the integration of technical trade entries and the two and three-target, peeling-off money management and exit strategies.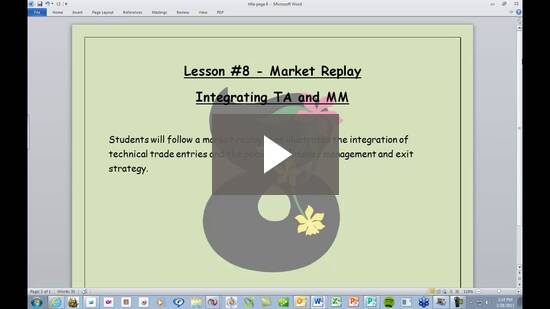 The S&P Emini, launched in 1997, was the first electronically traded market in the U.S. We are the first generation that has possessed the technology that allows us to trade from a personal computer in the comfort of our own homes. Day trading this stock index provides the means by which a person with the necessary skills can make more money in less time and with less starting capital than virtually any other market or method. It is the mission of Pacific Trading Academy to open this path to financial security and independence to the public in a manner that is easy and affordable. We sincerely believe that this new course and trading room combination accomplishes that mission.